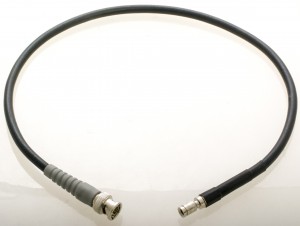 This Flexible cable is ideal for field/location use and is very compliant.
All my cables are custom made by myself using care, experience and the right tools.
I have only listed shorter cables in this listing as this reflects the small stock of this cable that I keep at the moment.
Longer lengths are available up to 100m but ordering in the cable will add a couple of days to the supply time.
So for longer lengths just ask.
Cable: 
Bryant Precision SDI Video Cables BD SD10F
Link: http://www.bryant-unlimited.co.uk/res/bd_sd10f_serial_digital_video_cable.pdf
Connector: Amphenol BNC RFX  part number BA-65-037
Link:http://www.amphenol.co.uk/
Connector: Coax DIN 1.0/2.3 Cable Crimp Plug part Number DIN 1694CP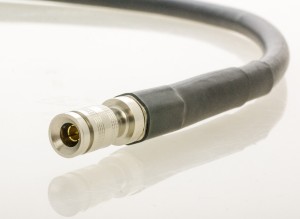 Link: 

http://www.coax-connectors.com/products/connectors/1023/52-005-b6-fc-bulk-100-1023-crimp-crimp-plug-true-75-ohm-3ghz.aspx

These Din1.0/2.3 plugs make a locked connection when engaged, with Black Magic Design, Hyperdeck Shuttle or Video Assist, which has recessed sockets, this makes the unlocking ring difficult to grip with fingers.
For ease, a pair of thin nosed pliers may be used for disconnecting (connecting is straightforward). Simply grip the knurled ring and slide it away from the socket to disengage the plug, Pulling on the cable, heat-shrink strain relief or ferrule will not unlock the connection unless the knurled ring is moved.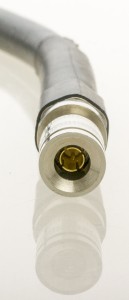 Mini Din 1.0/2.3
are used by:
Black Magic Design on Video Assist & Hyperdeck Shuttle
AJA on Kona 3 & 4 Video Cards
Miranda Nvision
Switchcraft
etc.
Complete with a Grey rubber boot cable strain relief.
Cable features & spec from web:
| | |
| --- | --- |
| Bryant Precision Flexible SDI Video Cables (large) | |
These coaxial cables are suitable for the transmission of serial digital video signals and are equivalent to Belden 1694F.

The stranded centre conductor and PVC jacket make these cables much more flexible than 'standard' SDI cables and thus are suitable for use on cable drums and for non-permanent installations such as outside broadcast.
Technical Specification
Technical Specifications
Conductor
7 x 0.361 bare copper wire
Cross Sectional Area
0.653mm²
Dielectric
Gas-injected foam high density polyethylene
Inner screen
Tinned copper braid 93% coverage
Outer screen
Tinned copper braid 94% coverage
Impedance
75 Ohm
Capacitance nominal
52 pF/M
Velocity pf propagation
86%
Resistance
Inner conductor
24.20 Ohms/Km
Outer conductor (screen)
5.50 Ohms/Km
Jacket material
PVC
Overall diameter
7.00mm
Max reel length
500 metres
Weight
7.44 Kg/100m
| | | |
| --- | --- | --- |
| Attenuation @ | 71.5 MHz | 6.6 dB/100m |
| | 88.5 MHz | 7.2 dB/100m |
| | 135.0 MHz | 9.2 dB/100m |
| | 180.0 MHz | 10.8 dB/100m |
| | 270.0 MHz | 13.1 dB/100m |
| | 750.0 MHz | 23.0 dB/100m |
| | 1500.0 MHz | 34.1 dB/100m |
| | 2250.0 MHz | 43.3 dB/100m |
| | 3000.0 MHz | 51.2 dB/100m |
| | 4500.0 MHz | 65.0 dB/100m |
---
User Product Focus:
Black Magic Design – Video Assist
High resolution, large monitor for perfect focus and framing!
Product web page:
https://www.blackmagicdesign.com/uk/products/blackmagicvideoassist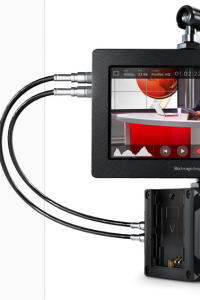 Connections
SDI Video Input
1 x SD/HD/3G/6G-SDI via DIN 1.0/2.3 connector
SDI Video Output
1 x SD/HD/3G-SDI via DIN 1.0/2.3 connector
AJA – Kona 4G
KONA 4 is a powerful 8-lane PCIe 2.0 video and audio desktop I/O card with unparalleled features for handling everything from SD to HD, 2K and 4K with full 10-bit 4:2:2 and 4:4:4 sampling for fantastic image clarity. KONA 4 has the power for the work you do today and into the future.