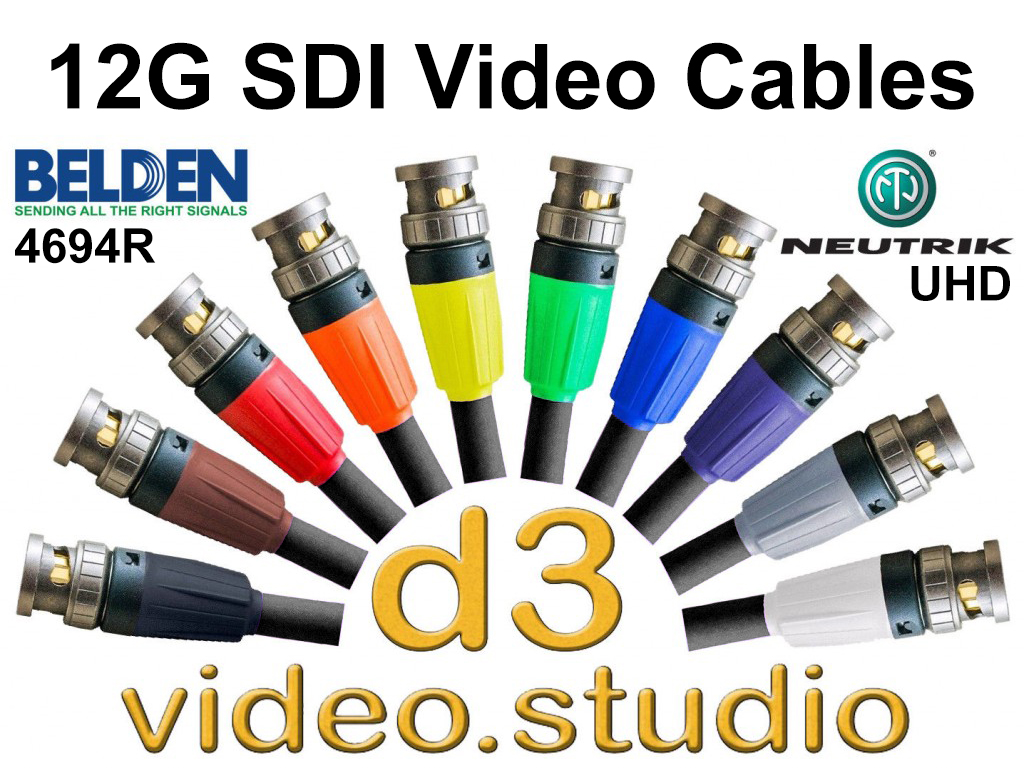 This  cable is ideal for installation use in studio racks and outdoors.
Designed and built to work with the most demanding SDI signals, the new Neutrik BNC plugs are tested to 24GHz and the Belden cable is made for 12G signals.
Red Weapon/Helium/Epic/Scarlet/Raven, Arri Alexa/Amira, Sony F5/F55, Panasonic Varicam LT, BMD, BlackMagic Design Ursa/Ursa mini Video Assist 4K etc.
All my cables are custom made by myself using care, experience and the right tools. Precision cable stripping and cutting are essential for 3G, 6G and 12G terminations so all of my cables are stripped and cut using a CNC cable lathe made in Switzerland by Schleuniger.
For longer lengths, please see my other listings or just ask me.
All sales via eBay or Amazon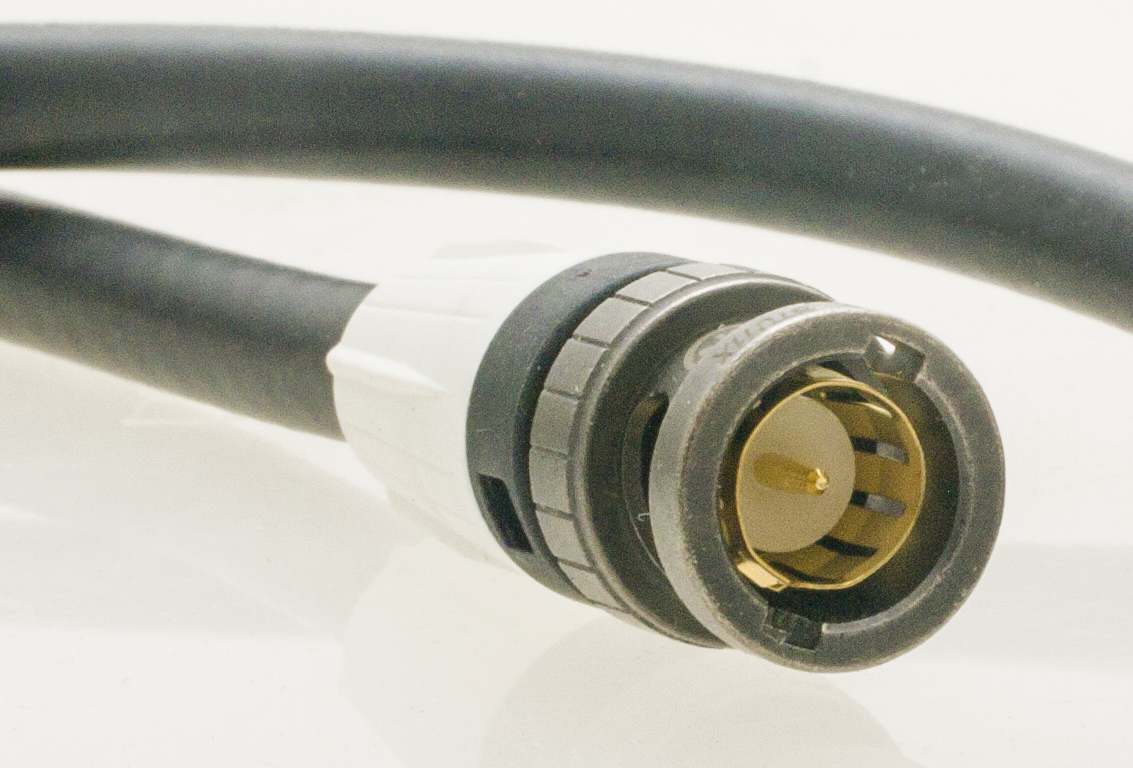 This cable has been designed and built for Ultra High Definition SDI video signals, from the Belden spec sheet:
12 GHz Coax, 4K UHD Precision Video Cable, RG-6/U Type, 75 Ohm, 18 AWG solid .040″ silver plated copper conductor, gas-injected foam HDPE insulation, Duofoil® bonded to core + tinned copper braid shield (95% coverage), CMR, PVC jacket.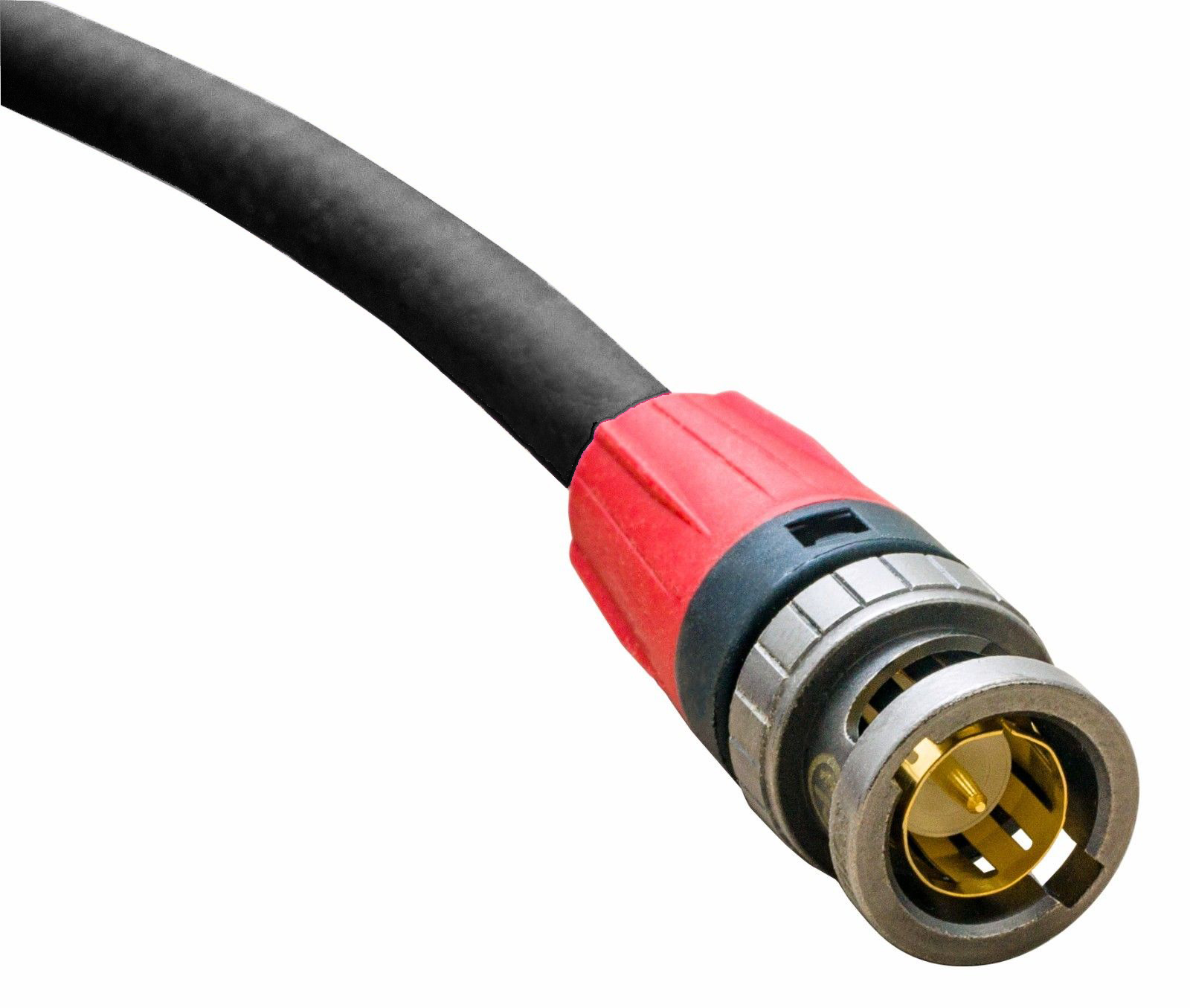 Connectors: Neutrik NBNC75BTU11X
 Rear Twist BNC Plug
This is the latest high performance connector from Neutrik
With 
Swiss antraloy plating
The rearTWIST UHD BNC connectors are specifically designed for high resolution video signal transmissions. 
Due to the unique insulator and contact pin design, the connectors feature low return loss values for 4K and 8K signals.
Complete range of 10 colour coded rubber cable strain relief caps.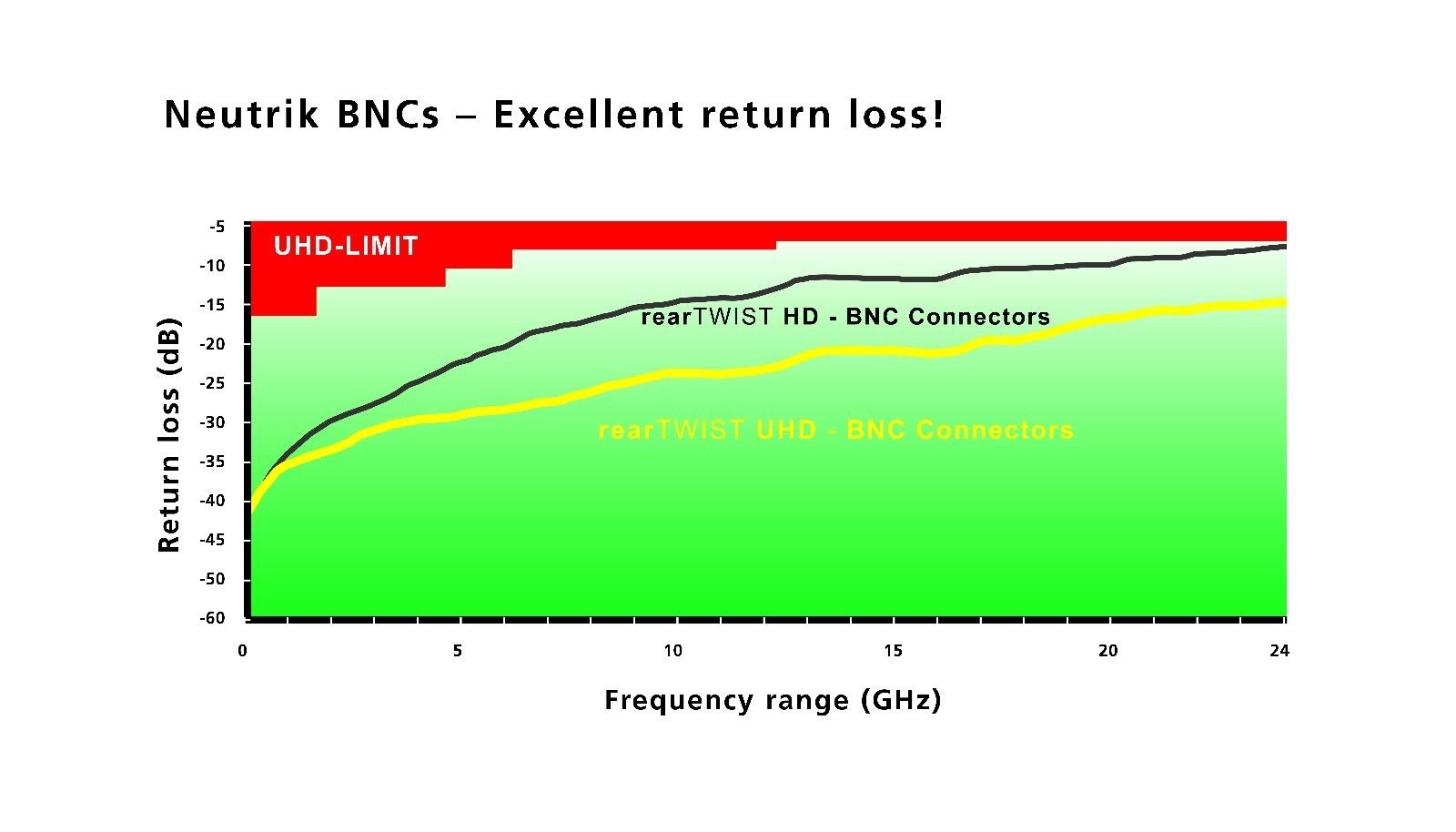 Optional PLIOTEX-Vplus cable identity markers
; a colour coded numerical identity system 
that is applied to both ends of the cable during manufacture, please let me know what numbers you require.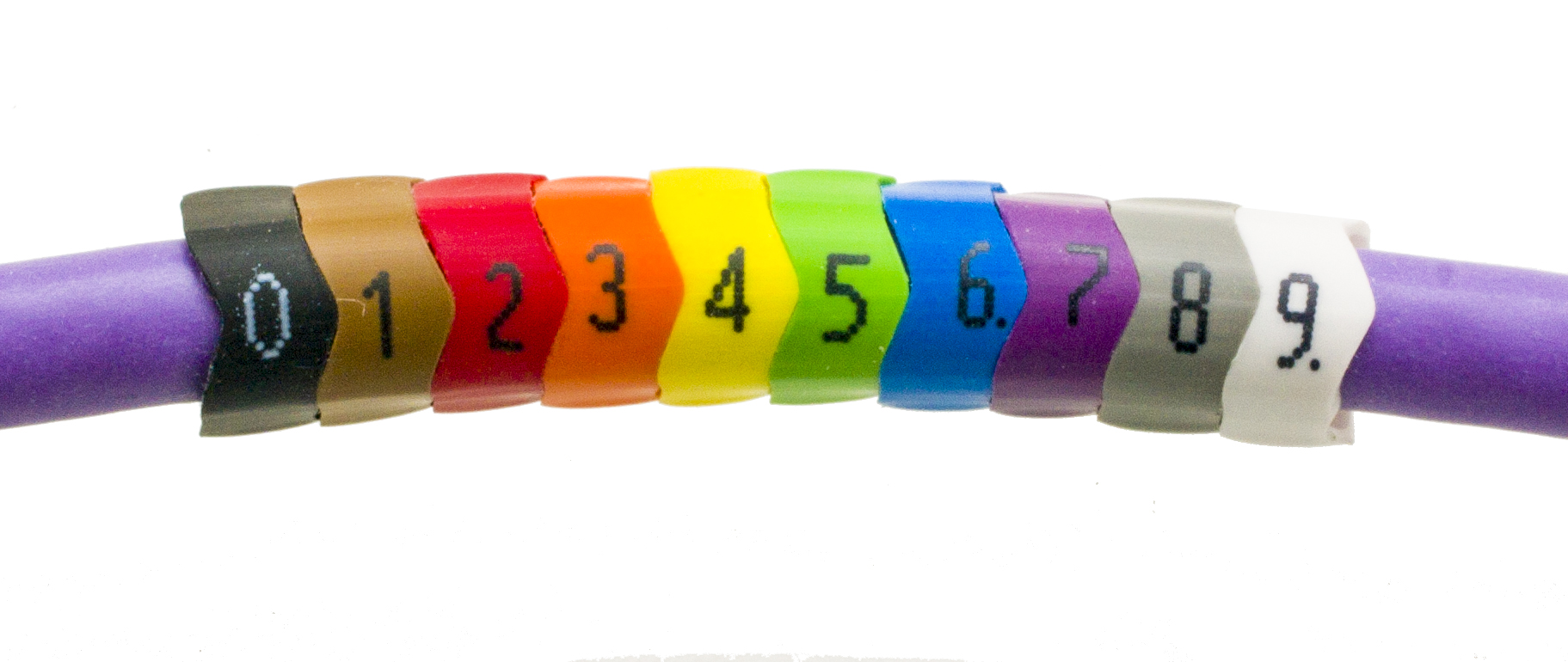 Belden Cable features & spec from web:
Technical Specifications  Product Overview    Environmental Space: Outdoor – Aerial    Suitable Applications: SMPTE 2082-1 12 Gb/s UHDTV, SMPTE 2081-1 6 Gb/s UHDTV, SMPTE 424M 3 Gb/s HD-SDI 1080P    Physical Characteristics (Overall)    Conductor : AWG                    18 Stranding                 Solid Material                   SPC – Silver Plated Copper Nominal Diameter   1.016 mm No. of Coax             1  AWG Size:                 18    I nsulation  Material                     Gas-injected FHDPE – Foam High Density Polyethylene Nominal Diameter    4.572 mm   Outer Shield Material  Layer  1       Bonded Duofoil® (Bonded to Dielectric) Tape    Aluminum Foil-Polyester  100 % Coverage          Layer  2       Braid      TC – Tinned Copper                                                                                     95 % Coverage                                                  Outer Jacket Material    PVC – Polyvinyl Chloride Nominal Diameter   6.960 mm    Mechanical Characteristics (Overall)  Operating Temperature Range:              -30°C To +75°C  Bulk Cable Weight:                                                      61.016 Kg/Km  Max. Recommended Pulling Tension:     306.926 N  Min. Bend Radius/Minor Axis:                  69.850 mm        Applicable Specifications and Agency Compliance (Overall)   Applicable Standards & Environmental Programs   NEC/(UL) Specification:                          CMR    CEC/C(UL) Specification:                        CMG   EU Directive 2011/65/EU (ROHS II):        Yes   EU CE Mark:                                             Yes  EU Directive 2000/53/EC (ELV):               Yes   EU Directive 2002/95/EC (RoHS):            Yes  EU RoHS Compliance Date :                    01/01/2004  EU Directive 2002/96/EC (WEEE):           Yes  EU Directive 2003/11/EC (BFR):               Yes  CA Prop 65 (CJ for Wire & Cable):            Yes  MII Order #39 (China RoHS):                    Yes RG Type:                                                    6/U Flame Test UL Flame Test:       UL1666 Vertical Shaft CSA Flame Test:     FT4 Suitability  Indoor:    Yes Outdoor: Yes – Black only. Aerial:     Yes – Black only, when supported by messenger wire. Burial:     No Plenum/Non-Plenum Plenum (Y/N):           No Electrical Characteristics (Overall)  Nom. Characteristic Impedance:    (Ohm) 75 Nom.  Inductance:          (µH/m) 0.347786 Nom.  Capacitance Conductor to Shield:    (pF/m) 52.168  Nominal Velocity of Propagation:  VP                                   (%) 84.500  Nominal Delay:  Delay                               (ns/m) 3.937 Nom.  Conductor DC Resistance:  DCR @ 20°C                   (Ohm/km) 20.9984  Nominal Outer Shield DC Resistance:  DCR @ 20°C                    (Ohm/km) 9.187  Nom. Attenuation:  Frequency (MHz)              Attenuation (dB/100m)
1.000                                    0.755
3.580                                    1.444
5.000                                    1.673
6.000                                    1.837
7.000                                    1.936
10.000                                  2.297
12.000                                  2.461
25.000                                  3.412
67.500                                  5.184
71.500                                  5.315
88.500                                   5.840
100.000                                 6.201
135.000                                 6.890
143.000                                 7.087
180.000                                 8.006
270.000                                 9.745
360.000                               11.319
540.000                               14.108
720.000                               16.405
750.000                               16.733
1000.000                             19.358
1500.000                             23.951
2000.000                             27.889
2250.000                             29.857
3000.000                             34.779
4500.000                           43.309 
6000.000                           50.856 
12000.000                         75.463
              Max. Operating Voltage – UL:
Voltage:              300 V RMS
Other Electrical Characteristic 1:
Return Loss: Fixed bridge and termination.
Minimum Return Loss:
Start Freq. (MHz)             Stop Freq. (MHz)              Min. RL (dB)
                5.000                          1600.000                    23.000
          1600.000                          4500.000                    21.000
          4500.000                        12000.000                    15.000
Sweep Test
Sweep Testing: Sweep tested 5 MHz to 12 GHz.
Notes (Overall)
Notes: Print legend includes sequential footage marks.